We have been manufacturing high quality printed medical bags for the NHS for almost 20 years.
Our printed medical bags are designed to meet the demands of the healthcare sector. They are robust, flexible, hygienic and weatherproof, and include sample/specimen bags, blood transportation bags, medicine bags and grip-seal bags.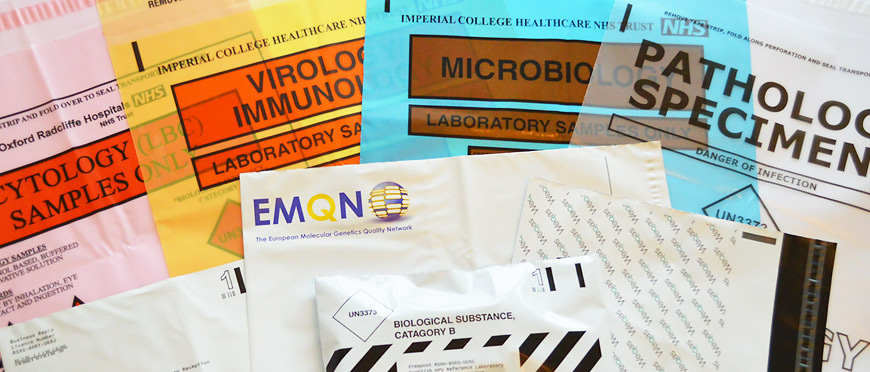 We produce many custom printed polythene envelopes and bags for medical laboratories in the UK and Europe as the secondary packaging and in accordance with the UN3373 regulations.
Whether you are looking for security sealed bags for a patient's items, sending specimen samples to laboratories for testing or testing kits to the public, we are sure to be able to have a suitable product that we can offer a quotation on.
Our medical transport packaging can include a permanent or tamper evident self-seal closure, custom printing, sequential numbering & barcoding for identification and lateral seals & punched out carry handle to easy handling.
Please get in touch if you would like more information, should you require a quotation, please contact us on 01733 513488 or CONTACT US for a free, no obligation quotation.
Permanent & tamper evident self-seal closure
Sequential numbering & barcoding
Punched out handle for easy carry function
We'd love to hear from you, if you have project ideas or would just like a chat, either call us on 01733 513488 or click here to send us a message.
24hr response turn around Call us on 01733 513488
Nationwide Delivery Free next day delivery options
Bulk order avaliable Contact us for more information
Sale Products available across all product ranges